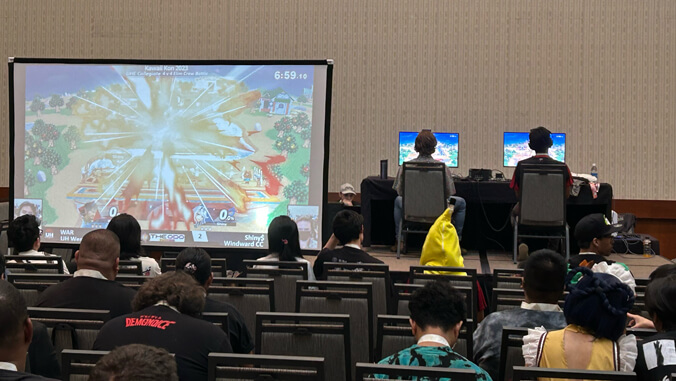 A first-of-its-kind esports tournament showcased student talent from six University of Hawaiʻi in front of more than 70,000 people in-person and virtually.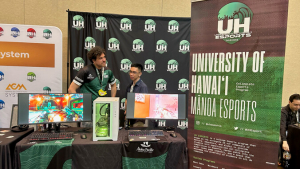 The students battled it out over three days of friendly competition in Super Smash Bros. at the Kawaii Kon festival, March 31–April 2, at the Hawaiʻi Convention Center. More than 20 students from UH Mānoa, UH Hilo, UH West Oʻahu, Kauaʻi Community College, Windward CC and Leeward CC participated.
"The most important thing that we found out is that all the students from the different campuses have begun to interact, socialize and build friendships amongst each other," said UH Mānoa esports Program Director Nyle Sky Kauweloa, who helped to coordinate the tournament.
The UH Mānoa esports program, which was voted as the top collegiate esports program in the nation, won the tournament. Kauaʻi CC came in as the runner up. Rashid Jeff Bernard Araula, a freshman at UH Mānoa, served as Kauaʻi CC's team manager because of his close ties to the Garden Island.
"They did a great job and quite honestly, we didn't expect to go this far," Araula said. "I remember talking to them, just taking the game one step at a time, don't think about the whole series. I'm super proud of them all, for taking this placement and putting Kauaʻi on the map for collegiate esports."
Top 
Hawaiʻi

 players from UH campuses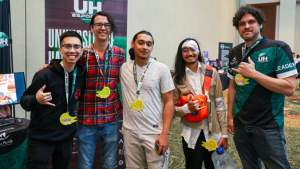 The UH students also gained experience playing against professional esports players. All matches were played in person in front of more than 20,000 Kawaii Kon attendees and broadcast online to more than 50,000 viewers. Kauweloa said that people who tuned in saw that some of the state's top players are students at a UH campus.
"It combined everything to make this a really magical experience for all the students, especially our students from the neighbor islands who had never been to Kawaii Kon before, and to experience that as part of the UH esports tournament was really special," Kauweloa said.
Araula hopes to participate in more events like these to highlight the collegiate esports scene in Hawaiʻi.
"The event itself was very surreal and successful," Araula said. "It felt great knowing that there is a whole community outside of just Mānoa for esports. I knew that there was one in Kauaʻi, but to be honest, I didn't know how large the community was just at the collegiate level. It was great talking to everyone from different campuses, and different team leads. I personally had a great time with the Hilo team, as we were the only outer island teams to go to the first iteration of this event."
The UH esports program receives substantial funding from the Academy for Creative Media System.
—By Marc Arakaki