Credit to University of Hawaiʻi News
Esports students from the University of Hawaiʻi at Mānoa and UH West Oʻahu learned firsthand from one of the most prominent esports companies in the world.
Seven students traveled to South Korea for a three-week internship with Gen.G, a professional esports organization that was ranked by Forbes as the 8th most valuable esports company in 2022, with a value of $250 million and an estimated 2021 revenue at $17 million. The internship is also a SOCS 489 course out of the UH Mānoa College of Social Sciences.
The students participated in the Gen.G Global Academy, which is focused on developing pathways for STEM exploration and esports career opportunities, while developing soft skills and community engagement. Three students (Kylin Daniel, Jaydon Patoc and Casey Caro) focused on the education track, while four others (Shaun Serikaku, John Lee, Nevan-Isaiah Pak and Justin Wang) completed the marketing track.
"Students who took part in the Gen. G internship/practicum have come away with a unique perspective on the global operations of esports, and in particular, how South Korea (the modern birthplace of esports) has become such a powerhouse in the industry," said Nyle Sky Kauweloa, UH Mānoa's esports program director who accompanied the students on the trip. "This cohort now takes with them this knowledge, and I am excited to see how they will also change the landscape of esports in Hawaiʻi."
Education and marketing tracks
The education track focused on several responsibilities, including creating educational project based curriculum for the academy's high school students, proposing a new education program to fit the current needs of the academy and the international education market, and assisting and participating in camps and events as a student mentor.
"Working alongside Gen.G and really soaking in as much as I could, all while doing the best I could to showcase my abilities and what I had learned from my college classes, was a great growing experience for me," said Patoc, who graduated with an associate's in instructional teaching from Leeward Community College and is headed to UH West Oʻahu to pursue a bachelor's degree in general education. "I would like to say thank you to Gen.G and University of Hawaiʻi again for the opportunity, and I cannot wait to hit the ground running here and do what I can to help take Pueo Gaming (UH West Oʻahu esports organization), IM LeeSports (Leeward CC's intramural sports league) and any other program I can assist with to the next level and do Hawaiʻi proud."
Caro, a UH Mānoa sophomore computer science major, added, "The internship provided me with valuable insights into the esports industry and allowed me to explore my passion for technology and gaming. The work environment at Gen.G was a perfect blend of professionalism and a laid-back atmosphere, which fostered a sense of creativity and motivation among the interns."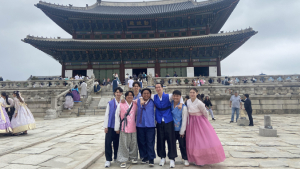 The marketing track focused on enhancing global fan engagement for the team and players, collecting data, forecasting trends, conducting market research and creating advertising materials.
"The work was varied and engaging, started off simple but ramped up in difficulty pretty quickly," said Pak, who is a UH Mānoa senior journalism major. "They had us trying to stretch our creativity and learning capabilities since we were there for such a short time. The staff was really nice and helpful, they showed us around and we got to explore a good amount of Seoul which was absolutely amazing."
The students also got to experience Korean culture, which included visits to historical sites, the Lotte World Tower, a virtual reality theme park and a massive esports stadium. For Pak, it was his first time outside of the country.
"The sights were stunning, and the ability to learn a lot more about Korean history and culture were great," Pak said.
UH Esports receives substantial funding from the Academy for Creative Media System. Visit the UH Esports team's Twitter and Discord pages. More stories on UH's esports program.
—By Marc Arakaki