The University of Hawai'i Esports is a college Esports program that draws on the strengths of our community of mentors, educators, and alumni to provide students with a wealth of opportunities for collegiate competition in Esports, as well as career paths for students to enter the broader video game industry. With its commitment to fostering an inclusive environment that welcomes the diversity of students from all UH campuses, the program is taking strides to ensure the success of all of its members.
UH Esports is partnering with the EGF College League for collegiate D-1 esports, and has recently been honored with the recognition of being the best collegiate Esports program in the nation. This prestigious award is a testament to the hard work and dedication of the program's mentors, educators, and students and is a true reflection of their collective efforts to create an environment that celebrates inclusivity and success.
UH Manoa's D-1 Athletic Esports Program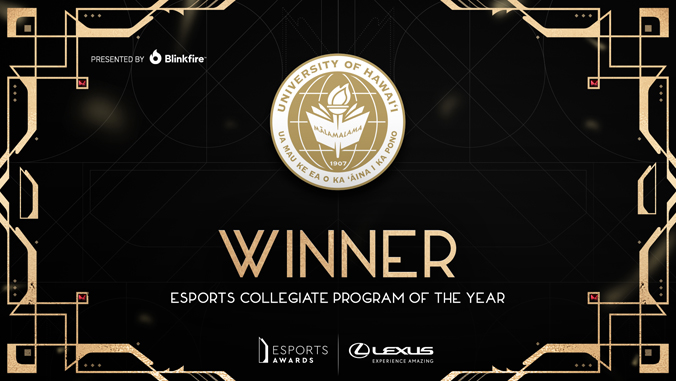 ---
The ACM System funds UH Esports
---
UH Esports is proud to have partnered with Blizzard's Overwatch League for two consecutive years.
---
Past Events
---
Meet the UH Esports Leadership
Nyle Sky Kauweloa PhD
UH Mānoa Esports Director
Faculty
As the director of UH Esports, Sky is tasked with creating a program that is inclusive of all students who have a passion for competitive digital play at the University of Hawaii. He also places special emphasis on researching the life experiences of college esports players, studying their various demands, pressures, and expectations that they have of themselves.
As part of his research, Sky works to gain a deeper understanding of how these demands and pressures can affect the players both mentally and physically. By gaining an understanding of such issues, he is able to create a program that caters to all students and allows them to enjoy the competitive digital play experience in a way that is safe, inclusive, and rewarding.
---
Kevin Nguyen
UH Mānoa Esports Program Assistant
Staff
Kevin Nguyen is the University of Hawaii's Esports, or UHE, Program Assistant. Initially pursuing engineering as a UH student, he realized midway that this was not what he truly enjoyed. After switching majors to communications, he could connect with his now director Sky Kauweloa which opened many doors and opportunities.
After meeting Sky, Kevin realized he could make something out of collegiate esports and put all his efforts into growing esports at Manoa. He then started an RIO called Manoa Academy of Gamers, which aimed to give people who loved video games home. With the success and growth of the organization, the university saw the excitement around college esports and decided to bring him on board.
He is devoted to creating a pathway for students at UH who want to enter the gaming, esports, and technological space. By focusing on his students, he provided different experiences, such as working with pro teams, internships with the Overwatch League, and various workshops. He knows that switching his major was a risk but also wants students to know that pursuing a passion in gaming and esports is okay and wants them not to feel boxed into what society expects.
---
To learn more about the UH Esports program, click here.